Steve Benedict
---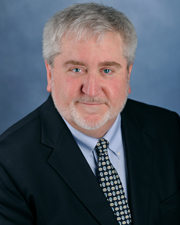 Professor and Chancellors Club Teaching Professor
Biography
—
T cell activation, cell signaling, adhesion molecules.
T lymphocytes are crucial cells in the immune response, controlling B cell and macrophage function by T helper and T regulatory activity, synthesizing cytokines, and providing cytotoxic activity. Before T cells can function, they must be activated by specific antigen, and the ability to control T cell activation would be of great importance in controlling the immune response to foreign antigens. T cells are activated through two signals, the antigen signal is very specific and without a second signal, causes the T cell to die or become anergic. The second signal can be delivered through any of several proteins located on the T cell surface. This combination of signals, called costimulation, leads to activation of the T cell and in some cases to differentiation of the cell to a more mature phenotype capable of performing new functions. We study how multiple T cell signaling regulates T cell activation, adhesion, migration/homing, differentiation and function, and how the T cell surface molecule ICAM-1 plays a role in these processes. We use mouse models to study thymic differentiation and the role of ICAM-1 in resistance to infectious disease. We study post thymic differentiation of naïve T cells in young and older humans. We study the participation of signaling through ICAM-1 in autoimmune diseases such as rheumatoid arthritis or multiple sclerosis. We are studying aging and immunosenescence during differentiation of human naïve T cells to memory or to regulatory T cells in response to several combinations of signals introduced at the T cell surface. We are studying the immune response in patients who are undergoing total parenteral nutrition.
Selected Publications
—
Representative Publications
Biswas, S, Benedict SH, Lynch SG and LeVine SM "Potential immunological consequences of pharmacological suppression of gastric acid production in patients with multiple sclerosis" BMC Med 10:57, 2012.
Zhong D, Lefebre M, Kaur K, McDowell MA, Gdowski C, Jo S, Wang Y, Benedict SH, Lea SM, Galan JE, De Guzman RN.  "The Salmonella type III secretion system inner rod protein PrgJ is partially folded" J. Biol Chem 287(30):25303-11, 2012.
Williams KM, Dotson AL, Otto AR, Kohlmeier JE, Benedict SH. "Choice of resident costimulatory molecule can influence cell fate in human naïve CD4+ T Cell differentiation" Cell Immunol 271(2): 418-27, 2011
Sweeney ME, Slusser JG, Lynch SG, Benedict SH, Garcia SL, Rues L, LeVine SM.  "Deferiprone modulates in vitro responses by peripheral blood T cells from control and relapsing-remitting multiple sclerosis subjects" Int Immunopharmacol 11(11): 1796-1801, 2011.
Mitchell KM, Dotson, AL, Cool, KM, Chakrabarty A, Benedict SH, LeVine SM. Deferiprone, an orally deliverable iron chelator, ameliorates experimental autoimmune encephalomyelitis. Multiple Sclerosis 13: 1118–1126, 2007.
Benedict, SH, Cool, KM, Dotson AL, Chan MA. Immune accessory proteins. Invited review for online publication Encyclopedia of Life Sciences. 2007.
Compher C, Pazianas M, Benedict SH, Brown JC, Kinosian BP and Hise M. 2007. Systemic inflammatory mediators and bone homeostasis in intestinal failure. JPEN: J Parenter Enteral Nutr. 31:142–147
Harlan, LM, Chan, MA and Benedict, SH. Two different modes of costimulation predispose human T lymphocytes to differential responses to HDL and oxidized LDL". Atherosclerosis, 193: 309–320, 2007. [2006 e-pub ahead of print]
Kohlmeier, JE, Chan, MA and Benedict, SH. Costimulation of naïve human CD4+ T cells through ICAM-1 promotes differentiation to a memory phenotype that is not strictly the result of multiple rounds of cell division. Immunology 118:549–558, 2006.
Hise, ME, Compher, C, Harlan, L, Kohlmeier, J, Benedict, S, Gajewski, B, Brown, J. Inflammatory Mediators and Immune Function Are Altered in Home Parenteral Nutrition Patients, Nutrition 22: 97–103, 2006.
Yamshchikov G, Borisevich V, Kwok C, Nistler R, Kohlmeier J, Seregin A, Chaporgina E, Benedict S, and Yamshchikov V. The suitability of yellow fever and Japanese encephalitis vaccines for immunization against west Nile virus. Vaccine 23:4785–4792, 2005.
Hise ME, Compher C, Harlan L, Kohlmeier J, Benedict S, Brown J, Gajewski B, Kinosian B. Inflammatory mediators and immune function are altered in home parenteral nutrition patients. Journal of Parenteral and Enteral Nutrition 28(1):S5–010, 2004.
Search PubMed for articles by Stephen H. Benedict.