Mizuki Azuma
---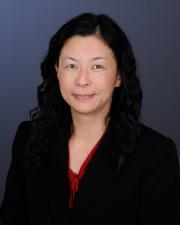 Research
—
The function of Ewing sarcoma proteins in mitosis
Ewing sarcoma is the second most common bone tumor in children. The common molecular abnormality in Ewing sarcoma is the t(11; 22) chromosomal translocation, which results in the expression of a chimeric fusion protein containing EWS-derived sequences at the amino terminus fused to the carboxyl-terminus of the ETS transcription factor FLI1. My research goal is to elucidate the molecular mechanism whereby the Ewing sarcoma fusion protein EWS/FLI1 leads to malignant transformation.
In recent studies we reported that both the knockdown of EWS, and expression of the EWS/FLI1 fusion protein, in zebrafish embryos and HeLa cells leads to mitotic defects. We subsequently demonstrated a biochemical interaction between EWS/FLI1 and wildtype EWS, leads to inhibition of EWS activity by EWS/FLI1 in a dominant negative manner.
The hypothesis of my research is that the EWS/FLI1-EWS interaction in Ewing sarcoma induces mitotic defects leading to malignant transformation. Chromosomal instability is a hallmark of malignancy. Therefore, the functional loss of EWS due to its interaction with EWS/FLI may cause mitotic defects leading to chromosome instability, and ultimately to Ewing Sarcoma. We will analyze both EWS/FLI1 and EWS in human cells and in zebrafish.  Experiments will be carried out in human cell lines to understand the molecular basis of EWS/FLI1 more closely, and to take advantage of the availability of reagents to study the mitotic spindle. These findings will then be assessed in zebrafish by generating transgenic fish expressing EWS/FLI1. The zebrafish will provide an in vivo whole animal model amenable to genetic screening for second hit mutations or suppressor genes.
We will directly address the molecular basis for this interaction and assess the activity of the EWS/FLI1 fusion in vivo in the zebrafish.  Understanding how the fusion proteins resulting from these translocations lead to malignant transformation remains an important biological and clinical problem.
Selected Publications
—
See all papers by Mizuki Azuma on PubMed