Kathy A Suprenant
---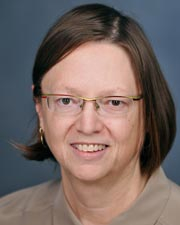 Biography
—
The cytoskeleton in cell division, development and neuromuscular function.
The research of the Suprenant laboratory is focused on molecular mechanisms of microtubule-associated protein function. We combine studies of the basic biochemistry and molecular biology of microtubules and microtubule-associated proteins, high-resolution time-lapse microscopy of microtubule dynamics, and genetic analyses of protein function. 
Selected Publications
—
Representative Publications
Cellular Curiosities: Intracellular Cathedrals (2013) 
Hueston J.L., and Suprenant K.A. Loss of dystrophin and the microtubule-binding protein ELP-1 causes progressive paralysis and death of adult C. elegans. (2009) Dev Dyn. 238:1878 PubMed Central PMCID: PMC2942758.
Hueston, J.L., Herren, G.P., Cueva, J.G., Buechner, M.J., Lundquist, E.A., Goodman, M.B., and Suprenant, K.A. (2008) The C. elegans EMAP-like protein, ELP-1 is required for normal touch sensation and associates with microtubules and adhesion complexes. BMC Developmental Biology 8:110 (E-pub 17 November, 2008).
Dickensen, N., Moore, D., Suprenant, K., and Dunn, R.C. (2007) Vault Ribonucleoprotein Particles and the Nuclear Pore Complex. Photochem Photobiol. 83(3):686–91.
Suprenant, K.A., Bloom, N., Fang, J. and Lushington, G. (2007) The major vault protein is related to the toxic anion resistance protein (TelA) family. Journal of Experimental Biology.210:946–955.*†
* Featured in Inside JEB section with an article entitled: "The Mystery of Vaults."
† Included in The Journal of Experimental Biology Highlights, published October 2007
Rodriguez, A.J., Seipel, S.A., Hamill, D.R., Romancino, D.R., Di Carlo, M., Suprenant, K.A. and Bonder, E.M. (2005): Seawi--a sea urchin piwi/argonaute family member is a component of MT-RNP complexes RNA 11:646–656.
Foland, T.B., Dentler, W.L., Suprenant, K.A., Gupta Jr., M., and Himes, R.H. (2005) Paclitaxel-induced microtubule stabilization causes mitotic block and apoptotic-like cell death in a paclitaxel-sensitive strain of Saccharomyces cerevisiae Yeast 22:971–978.
Stewart, P.L., Makabi, M., Lang, J., Dickey-Sims, C., Robertson, A.J., Coffman, J.A. and Suprenant, K.A. (2005): Sea urchin vault structure, composition, and differential localization during development. BMC Developmental Biology 5:3 (e-pub 14 Feb 2005).
Bode, C., Gupta, M.L., Suprenant, K.A. and Himes, R.H. (2003): The two a–tubulin isotypes in budding yeast have opposing effects on microtubule dynamics in vitro. EMBO Reports 4:94–99.
Eichenmüller, B., Kedersha, N., Solovyeva, E. Everley, P., Lang, J., Himes, R.H., and Suprenant, K.A. (2003): Vaults bind directly to microtubules via their caps and not their barrels. Cell Motility and the Cytoskeleton 56:225–236 (AND COVER).
Eichenmüller, B., Everley, P., Palange, J., Lepley, D., and Suprenant, K. A. (2002): The human EMAP-like protein-70 is a microtubule destabilizer that localizes to the mitotic apparatus. Journal of Biological Chemistry 277:1301–1309.
Suprenant, K.A. (2002): Vault ribonucleoprotein particles; sarcophagi, gondolas or safety deposit boxes? Biochemistry 41: 14447–14454.
Bode, C. J., Gupta, M.L., Reiff, E.A., Suprenant, K. A., Georg, G.I., and Himes, R.H. (2002): Epothilone and paclitaxel: unexpected differences in promoting the assembly and stabilization of yeast microtubules. Biochemistry 41: 3870–3874.
Gupta, M.L., Bode, C.J., Thrower, D.A., Suprenant, K.A., Bloom, K.S. and Himes, R.H. (2002): b-tubulin C354 mutations that severely decrease microtubule dynamics do not prevent nuclear migration in yeast Molecular Biology of the Cell 13(8): 2919–32.
Search PubMed for articles by Kathy A. Suprenant.