Dean Stetler
---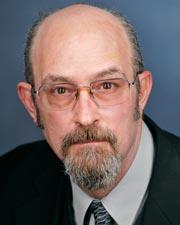 (1954-2020) Emeritus Associate Professor
Biography
—
Autoimmunity; Development of therapeutic reagents for systemic lupus erythematosus (SLE).
Systemic lupus erythematosus (SLE) is a complex autoimmune disease affecting multiple organ systems and characterized by the production of a wide variety of autoantibodies. A multitude of environmental, genetic, hormonal, and immunoregulatory factors participate in the etiology and pathogenesis of the condition. Current therapy involves the use of general immunosuppressive agents such as prednisone and azathiaprine, which are inadequate and accompanied by serious side-effects and/or toxicities. The laboratory is investigating the possibility of using recombinantly prepared ricin A chain fused to SLE autoantigens to specifically target, and kill, only the immature B lymphocytes that will produce the corresponding autoantibodies.
Selected Publications
—
Representative Publications
Sciascia, S.A., Dickensheets, H., Picking, W, Robson, K., Thurm, C., Wang, D., Zhu, L., and D.A. Stetler. 2004. Autoantibodies and autoantigens in the urine of SLE patients. Autoimmunity, 37: 503–14.
Rombach, E., D.A. Stetler, and J.C. Brown. 1993. Induction of an anti-Fab, anti-DNA, and anti-RNA polymerase I autoantibody response network in rabbits immunized with SLE anti-DNA antibody. Clin. Exp. Immunol. 94:446–472.
Rombach, E., D.A. Stetler, and J.C. Brown. 1992. Rabbits produce SLE-like anti-RNA polymerase I and anti-DNA autoantibodies in response to immunization with either human or murine SLE anti-DNA antibodies. Autoimmunity 13:291–302.
Stetler, D.A., D. Signorelli, J. Neil, S. Brady, R. Lottes, and J.C. Brown. 1992. Anti-RNA polymerase I antibodies in the sera of MRL lupus mice at the initial stages of disease are directed primarily against phosphorylation-dependent epitopes. Autoimmunity 12:29–36.
Picking, W.L., C. Smith, R. Petruci, J. Scheffel, J.D. Levich, and D. Stetler. 1990. Anti-RNA polymerase I antibodies in the urine of SLE patients. J. Rheumatol. 17:1308–1313.
Search PubMed for articles by Dean A. Stetler.