Dan A Dixon
---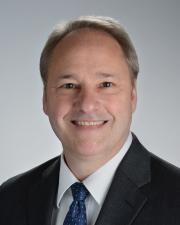 PhD Northwestern University, Postdoctoral: University of Utah, Vanderbilt University Medical Center
Biography
—
Role of post-transcriptional gene regulation in cancer.
Post-Transcriptional Gene Regulation in Colorectal Cancer
Colorectal cancer (CRC) is a leading cause of cancer incidence and death. Commonly observed in colon tumors is overexpression of many oncogenic and inflammation-associated genes. These factors allow the tumor cell to proliferate, promote angiogenesis, escape apoptosis, and metastasize. In normal cells, post-transcriptional mechanisms involving RNA-binding proteins and microRNAs target oncogenic mRNAs for rapid degradation. However, this critical mechanism is commonly lost in tumor cells allowing for oncogenic gene overexpression. By better understanding these post-transcriptional mechanisms, our goal is to identify new molecular targets for controlling gene expression that can improve on CRC prevention and treatment.
Role of RNA-Binding Proteins in Cancer
A critical point in controlling oncogenic gene expression in normal cells occurs through mechanisms that regulate mRNA decay. The two primary RNA-binding proteins associated with this are the mRNA stability factor HuR and the mRNA decay factor TTP. A common feature observed in many tumor types is the overexpression of the stability factor HuR and loss of the decay factor TTP. These combined defects in tumor cells allow oncogenic mRNA to escape their normal fate being degraded. Current projects involve examining these RNA-binding proteins as therapeutic targets and discovering new ways RNA-binding proteins can influence tumor progression.
Regulation of COX-2 Expression in Cancer
The inducible prostaglandin synthase COX-2 mediates inflammatory responses and plays a pivotal role in the pathogenesis of several cancer types due to its overexpression. Various studies have demonstrated the chemopreventive effects of COX-2 inhibition using non-steroidal anti-inflammatory drugs (NSAIDs) and selective COX-2 inhibitors, however side effects of these drugs have limited their use for chemoprevention. Our research has shown that post-transcriptional regulation is an essential mechanism regulating COX-2 gene expression and loss of this regulation occurs in cancer cells. Using molecular, cellular, and in vivo approaches, we are examining the functional significance post-transcriptional regulation plays in controlling COX-2 expression.
Selected Publications
—
Representative Publications
Schultz CW, Dhir T, McCarthy GA, Nevler A, DuHadaway JB, McCoy MD, Jiang W, Brown SZ, Goetz A, Jain A, Calvert VS, Vishwakarma V, Wang D, Dang H, Cassel J, Summer R, Shaghaghi H, Pommier Y, Baechler AS, Pishvaian MJ, Golan T, Yeo CJ, Petricoin EF, Prendergast GC, Salvino JM, Singh PK, Dixon DA and Brody JR (2021) The FDA approved anthelmintic Pyrvinium Pamoate inhibits pancreatic cancer cells in nutrient depleted conditions by targeting the mitochondria. Molecular Cancer Therapeutics (in press).
He X, Smith SE, Chen S, Li H, Wu D, Meneses-Giles PI, Wang Y, Hembree M, Yi K, Guo F, Perera A, Unruh JR, Maddera LE, Yu Z, Zhao X, Li Y, Zhao C, Bae K, Box A, Haug J, Tao F, Hu D, Hansen DM, Qian P, Saha S, Dixon DA, Zhang D, Lin EH, Sun W, Wiedemann L, Li L. (2021) Tumor-associated monocytes and macrophages protect and promote tumor-initiating stem cell proliferation upon being recruited to the niche. Cell Reports (in press).
Legrand N, Dixon DA and Sobolewski C. (2020) Stress granules in colorectal cancer: Current knowledge and potential therapeutic applications. World J. Gastroenterol. 26:5223-5247. View PubMed
Dong R, Chen P, Polireddy K, Wu X, Wang T, Ramesh R, Dixon DA, Xu L, Aubé J, and Chen Q. (2020) An RNA-binding protein, Hu-antigen R, in pancreatic cancer epithelial to mesenchymal transition, metastasis, and cancer stem cells.  Molecular Cancer Therapeutics, 19:2267-2277. View PubMed
Schultz CW, Preet R, Dhir T, Dixon DA* and Brody JR* (2020) Understanding and targeting the disease-related RNA binding protein HuR. Wiley Interdiscip. Rev. RNA. Jan 23:e1581. *Co-corresponding authors.  View PubMed
Monteleone NJ, Moore AE, Iacona JR, Lutz CS and Dixon DA (2019) miR-21-mediated regulation of 15-hydroxyprostaglandin dehydrogenase in colon cancer. Sci. Reports.9:5405. View PubMed
Dixon DA, Peterson E, and Davis A (2019) Stolen-colon storm could boost cancer screening. Nature565:161. View PubMed
Legrand N, Dixon DA and Sobolewski C (2019) AU-Rich Elements-Binding Proteins in Colorectal Cancer. World J. Gastrointest. Oncol.11:71-90. View PubMed
Preet R and Dixon DA (2018) Mutant KRAS exosomes influence the metabolic state of the colon microenvironment. Cell. Mol. Gastroenterol. Hepatol. 5:647-648. View PubMed
Brody JR and Dixon DA (2018) Complex HuR function in pancreatic cancer cells. Wiley Interdiscip. Rev. RNA.9:e1469. View PubMed
Peng W, Furuuchi N, Aslanukova L, Huang YH, Brown SZ, Jiang W, Addya S, Vishwakarma V, Peters E, Brody JR, Dixon DA, Sawicki JA (2018) Elevated HuR in pancreas promotes a pancreatitis-like inflammatory microenvironment that facilitates tumor development. Mol. Cell. Biol. 38:e00427-17. View PubMed
Lal S, Cheung EC, Zarei M, Preet R, Chand SN, Mambelli-Lisboa NC, Romeo C, Stout MC, Londin E, Goetz A, Lowder CY, Nevler A, Yeo CJ, Campbell PM, Winter JM, Dixon DA*, Brody JR*. (2017) CRISPR Knockout of the HuR Gene Causes a Xenograft Lethal Phenotype. Mol Cancer Res. 15:696-707. *Co-corresponding authors. View PubMed
Peng W, Furuuchi N, Aslanukova L, Huang YH, Brown SZ, Jiang W, Addya S, Vishwakarma V, Peters E, Brody JR, Dixon DA, Sawicki JA. (2017) Elevated HuR in Pancreas Promotes a Pancreatitis-like Inflammatory Microenvironment that Facilitates Tumor Development. Mol Cell Biol. Nov 13. View PubMed
Lal P, Cerofolini L, D'Agostino VG, Zucal C, Fuccio C, Bonomo I, Dassi E, Giuntini S, Di Maio D, Vishwakarma V, Preet R, Williams SN, Fairlamb MS, Munk R, Lehrmann E, Abdelmohsen K, Elezgarai SR, Luchinat C, Novellino E, Quattrone A, Biasini E, Manzoni L, Gorospe M, Dixon DA, Seneci P, Marinelli L, Fragai M, Provenzani A. (2017) Regulation of HuR structure and function by dihydrotanshinone-I. Nucleic Acids Res. 45:9514-9527. View PubMed
Blanco FF, Preet R, Aguado A, Vishwakarma V, Stevens LE, Vyas A, Padhye S, Xu L, Weir SJ, Anant S, Meisner-Kober N, Brody JR, Dixon DA. (2016) Impact of HuR inhibition by the small molecule MS-444 on colorectal cancer cell tumorigenesis. Oncotarget. 7:74043-74058. View PubMed
Blanco FF, Legrand N, Sobolewski C, Dixon DA. (2016) Post-transcriptional regulation of prostaglandin biosynthesis. Post-transcriptional Mechanisms in Endocrine Regulation. eds. Menon, K.M.J.,Goldstrohm, A.C., Springer AG Switzerland, pp.181-219.
Sobolewski C, Sanduja S, Blanco FF, Hu L, Dixon DA. (2015) Histone Deacetylase Inhibitors Activate Tristetraprolin Expression Through Induction of Early Growth Response Protein 1 (EGR1) in Colorectal Cancer Cells. Biomolecules, 5:2035-2055. View PubMed
Di Francesco L, Trenti A, Marcantoni E, Dovizio M, Moore A, Tacconelli S, Bruno A, Alberti S, Gizzo S, Nardelli GB, Orso G, Belton O, Trevisi L, Dixon DA, Patrignani P. (2015) Dysregulated post-transcriptional control of COX-2 gene expression in gestational diabetic endothelial cells. Brit. J. Pharmacol, 172:4575-4587. View PubMed
Wu X, Lan L, Wilson D, Marquez R, Tsao W, Gao P, Roy A, Turner B, McDonald P, Tunge J, Rogers S, Dixon DA, Aubé J, Xu L. (2015) Identification and validation of novel small molecule disruptors of HuR-ARE interaction. ACS Chem. Biol. 10:1476-1484. View PubMed
Aguado A, Rodríguez C, Martínez-Revelles S, Avendaño MS, Zhenyukh O, Orriols M, Martínez-González J, Alonso MJ, Briones AM, Dixon, DA*, Salaices M*. (2015) HuR mediates the synergistic effects of angiotensin II and interleukin 1β on vascular COX-2 expression and cell migration. Br. J. Pharmacol. 172:3028-3042. *Co-corresponding authors. View PubMed
Blanco FF, Sanduja S, Deane NG, Blackshear PJ, Dixon DA. (2014) TGF-beta regulates P-body formation through induction of the mRNA decay factor tristetraprolin. Mol. Cell. Biol. 34:180-195. View PubMed
Upadhyay R, Sanduja S, Kaza V, Dixon DA. (2013) Genetic Polymorphisms in RNA Binding Proteins Contribute to Breast Cancer Survival. Int. J. Cancer, 132:E128-E138. View PubMed
Dixon DA, Blanco FF, Bruno A, Patrignani P. (2013) Mechanistic Aspects of COX-2 Expression in Colorectal Neoplasia. Recent Results Cancer Res. 191:7-37. View PubMed
Young LE, Moore AE, Sokol L, Meisner-Kober N, Dixon DA. (2012) The mRNA Stability Factor HuR Inhibits MicroRNA-16 Targeting of Cyclooxygenase-2. Mol. Cancer Res. 10:167-180. View PubMed
Moore AE, Young LE, Dixon DA. (2012) A Common Single-Nucleotide Polymorphism in Cyclooxygenase-2 Disrupts MicroRNA-Mediated Regulation. Oncogene, 31:1592-1598. View PubMed
Sanduja S, Blanco FF, Young LE, Kaza V, Dixon DA. (2012) The Role of Tristetraprolin in Cancer and Inflammation. Frontiers in Bioscience, 17:174-188. View PubMed
Rounbehler RJ, Fallahi M, Yang C, Steeves MA, Li W, Doherty JR, Schaub FX, Sanduja S, Dixon DA, Blackshear PJ, Cleveland JL. (2012) Tristetraprolin is a Tumor Suppressor that Impairs Myc-Induced Lymphoma and Abolishes the Malignant State. Cell, 150:563-574. View PubMed
Moore AE, Young LE, Dixon DA. (2011) MicroRNA and AU-Rich Element Regulation of Prostaglandin Synthesis. Cancer and Metastasis Reviews, 30:419-435. View PubMed
Sanduja S, Blanco FF, Dixon DA. (2010) The Roles of TTP and BRF Proteins in Regulated mRNA Decay. Wiley Interdisciplinary Reviews: RNA 2:42-57. View PubMed
Young LE, Sanduja S, Bemis-Standoli K, Pena EA, Price RL, Dixon DA. (2009) The mRNA Binding Proteins HuR and Tristetraprolin Regulate Cyclooxygenase 2 Expression During Colon Carcinogenesis. Gastroenterology, 136:1669-1679. View PubMed
Sanduja S, Kaza V, Dixon DA. (2009) The mRNA Decay Factor Tristetraprolin (TTP) Induces Senescence in Human Papillomavirus-Transformed Cervical Cancer Cells by Targeting E6-AP Ubiquitin Ligase. Aging, 1:803-817. View PubMed
Kanies CL, Smith JJ, Kis C, Schmidt C, Levy S, Khabar KSA, Morrow J, Deane N, Dixon DA, Beauchamp RD. (2008) Oncogenic Ras and TGF-b Synergistically Regulate AU-rich Element-Containing mRNAs during Epithelial-Mesenchymal Transition. Mol. Cancer Res. 6:1124-1136. View PubMed
Dixon DA, Tolley ND, Bemis-Standoli K, Martinez ML, Weyrich AS, Morrow JD, Prescott SM, Zimmerman GA. (2006) Expression of COX-2 in Platelet-Monocyte Interactions Occurs via Combinatorial Regulation Involving Adhesion and Cytokine Signaling. J. Clin. Invest. 116: 2727-2738. View PubMed
Dixon DA. (2004) Dysregulated Post-Transcriptional Control of COX-2 Gene Expression in Cancer. Curr. Pharm. Des.10:635-646. View PubMed
Dixon DA, Balch GC, Kedersha N, Anderson P, Zimmerman GA, Beauchamp RD, Prescott SM. (2003) Regulation of Cyclooxygenase-2 Expression by the Translational Silencer TIA-1. J. Exp. Med. 198: 475-481. View PubMed
Dixon DA, Tolley ND, King PH, Nabors LB, McIntyre TM, Zimmerman GA, Prescott SM. (2001) Altered Expression of the mRNA Stability Factor HuR Promotes Cyclooxygenase-2 Expression in Colon Cancer Cells. J. Clin. Invest. 108:1657-1665. View PubMed