Supratim Dey, Ph.D.
---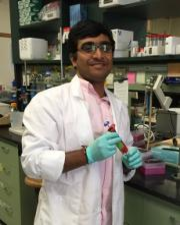 Contact Info
3116 Integrated Science Building (ISB)

---
Biography
—
Hometown:  Kolkata, India
 
Education
Ph.D., Biochemistry - University of Calcutta (2014)
Current Research: Gram(-) bacteria like Salmonella, Shigella, Pseudomonas and Burkholderia infects host cells through a nanoinjector mechanism known as Type II Secretion System (T3SS).  Amongst the large number of proteins involved in T3SS, my research focuses on biophysical characterization of Tip and Translocon proteins that are essential for T3SS assembly and transmitting virulence into the host cell. This will help us in better understanding of the molecular mechanisms responsible for bacterial pathogenesis.